moll Champion children desk – more than just a desk.
Quality, function and design — Champion sets new standards for youngsters' bedrooms. No other desk combines design, ergonomics and safety the way Champion does. The integrated yo-yo device lets children easily adjust height themselves. The rounded corners add safety. The champion has an excellent design: in 2012, it won the international Red Dot design award.
---

The patented tilt adjustment for the Champion
For ergonomically healthy posture when drawing, writing, reading or doing crafts, all moll desks have a safe and easy-to-operate tilt function.
desktop can be adjusted at various angles to let children choose the most relaxed seating position for activities like writing, drawing or reading. With Champion "front up", the desktop's entire width is tilt-adjustable, and only a fixed storage area at the back stays level. Champion "left up" is especially good for right-handed people, because here only the left part of the desktop is angled. The right side is the ideal storage surface. Left-handers have other needs, and that's why there's the "right up" model. Here the right side can be tilted while the left stays level.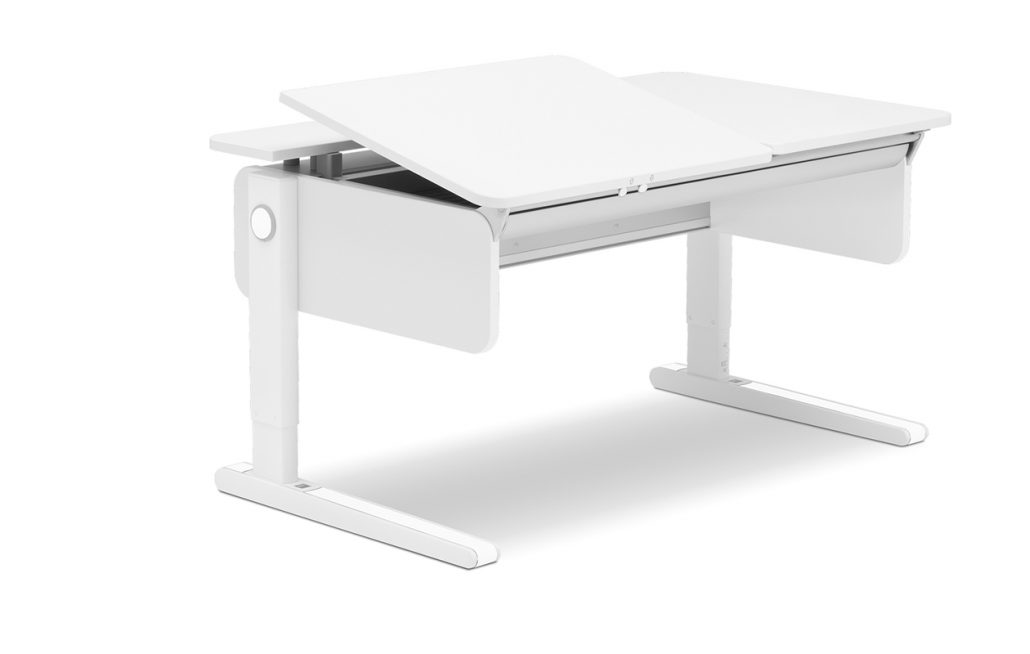 Champion Left Up: Divided tilt adjustment, perfect for right-handers.
120 × 72 cm, with 69 × 52 cm tilt-adjustable.
---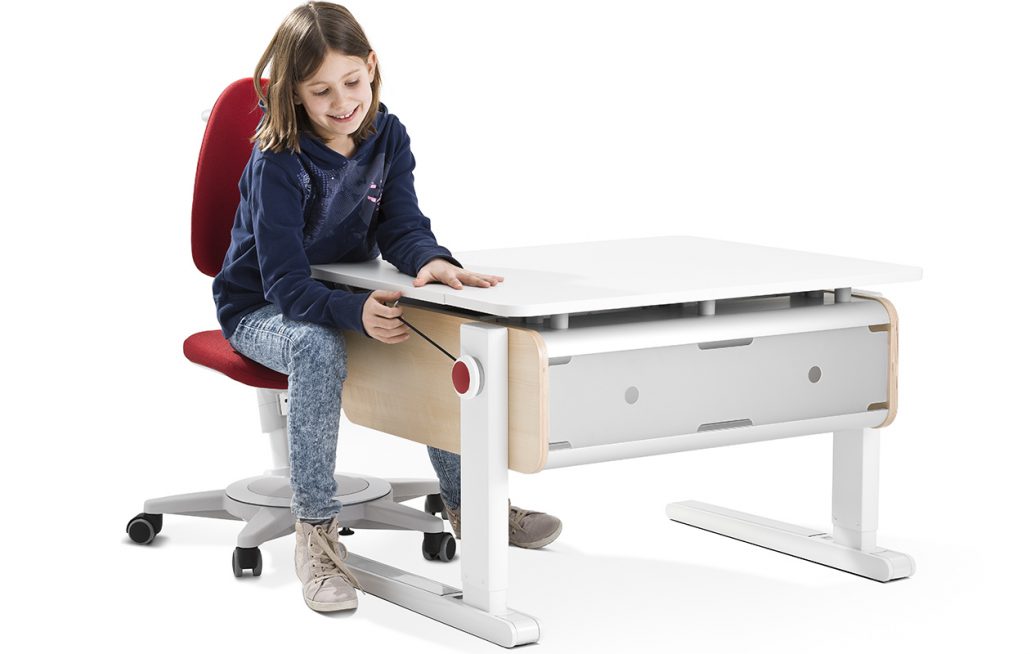 Champion: Ergonomics for growth and flexibility.
Flexible adjustability has always been a trademark of moll, and that also goes for the Champion: Children grow, and their needs change. That's why children need desks and chairs that adapt to their body's proportions – and that at every stage of development. This is where the tried-and-true Comfort height adjustment comes in. It takes just a few seconds to easily bring the desk to the ergonomically correct height. Ergonomically, the correct children's swivel chair is just as important as the children's desk. For desk heights from 53 to 82cm.

---
---

Colorful children's desks — as the child wants it.
Kids like to have their favorite color around them all the time — adults buy children's furniture for a long useful life. Champion grant both wishes and presents a stylish solution: the Champion desk that grows with the child. As an enhancement to the minimalist Champion, with its white desk sides, the side panel colors and decors can be changed later as color taste changes.

Table sides in 8 variants
Color desk sides: The desk sides, in 5 contemporary colors, are made of medium-density fiberboard with premium lacquering. Children have real fun learning at a desk in their favorite color. 
Wood: The 2 solid wood desk sides give Champion a natural feel. Fine wood structures make for an amazing tactile feel. Oak and walnut have oiled surfaces.
---
Accent elements in the foot skids
Each Champion desk comes with a stylish box that holds eight decorative colors ready for the foot skids and cover caps. What makes these special: You don't have to decide on a color once and for all. They can be quickly replaced and wait safely in the box for the next color change. Good, because the moll desks are so durable. This means that the Yoyo can be provided with a new colour accent at any time.
Accent colours for the YoYo
In addition to the yo-yo device's cover caps, color can come into play on the foot skids. The colored strips are extremely easy to change, and the white outrigger becomes a colorful design element.
---

The moll Champion creates space and order for your child
In addition to design and ergonomics, space is crucial to a good desk. Because children's rooms may offer limited space, users welcome intelligent solutions for dealing with space issues. For many years, moll has been known for solutions that create space in close quarters. They ensure that even tilted desktops always have enough space for studying, reading and work, in a tidy, structured environment.
To neaten things up, the thing you need most is space. Equipped or upgraded with the right furniture elements, the Champion can create needed storage surface on the desk. For example, they range from extension panels available in many shapes that enlarge the work surface in all directions, to a giant drawer, or even additional containers that not only provide mobile storage space, but also an overview into the tray. The interior is designed in such a way that folders, small utensils, drawing pads and CDs can find a place there.
Giant drawer — more space with the Champion
So that all utensils are in easy reach without making a mess on the desk, Champion offers a giant drawer with plenty of storage that does not limit freedom of movement. The giant drawer is equipped with two foam inserts that prevent pencils and pens from sliding around. Optionally, the drawer can be expanded with the OrgaSet organizer for a better overview.

Cable duct provides space and safety
Cables lying on the floor can quickly be rolled over by the vacuum cleaner or chair. They often become tripping hazards, and when they tangle they may break in ways that are barely visible. Nothing is more annoying than space-hogging cable spaghetti on the desk.In the Champion desk's optionally available cable duct, not only multiple electrical sockets disappear, but so do all the cables connected to them. There is also an optional cable duct cover. With its coverable cable duct, the Champion creates order and ensures an ideal power supply for all devices on the desk.
---
Why Choose MOLL DESK?
Watch how the Moll Children Ergonomic Desk can grow with your children and help them achieve a correct sitting position, better concentration and better performance in your everyday life. 
[Watch the full video]