Moll Winner children desk – the table with the multiple possibilities
If you choose Winner, you get more than just a desk. Winner is moll's extra-value solution. In addition to the book holder, the ruler and the bag hook that come on every moll desk, the Winner has additional highlights.
---

What makes the Winner so special?
In addition to the wide range of accessories that the winner always has with him, Winner comes in two basic desk models — the Winner and the Winner Compact – in two desktop variants (Winner and Winner Split  – and with two different height adjustment variants. Thanks to attractive decorative elements and a wide range of extension options, the Winner easily adapts to individual needs. Depending on the space needs, age and size of the child, Winner can be easily extended over time without being taken apart. Winner grows with growing needs. So: just relax.
---

Easy Height adjustments
The moll Winner offers easy height adjustments, The Comfort height adjustment; with a yo-yo device (adjustment range 53 cm to 82 cm) and the Classic height adjustment. The Comfort height adjustment allows continuous adjustment of the desk height that can even be operated while sitting. This is made possible by control cable technology that is easily docked onto the right or left side of the desk. It brings the Winner quickly to the desired height.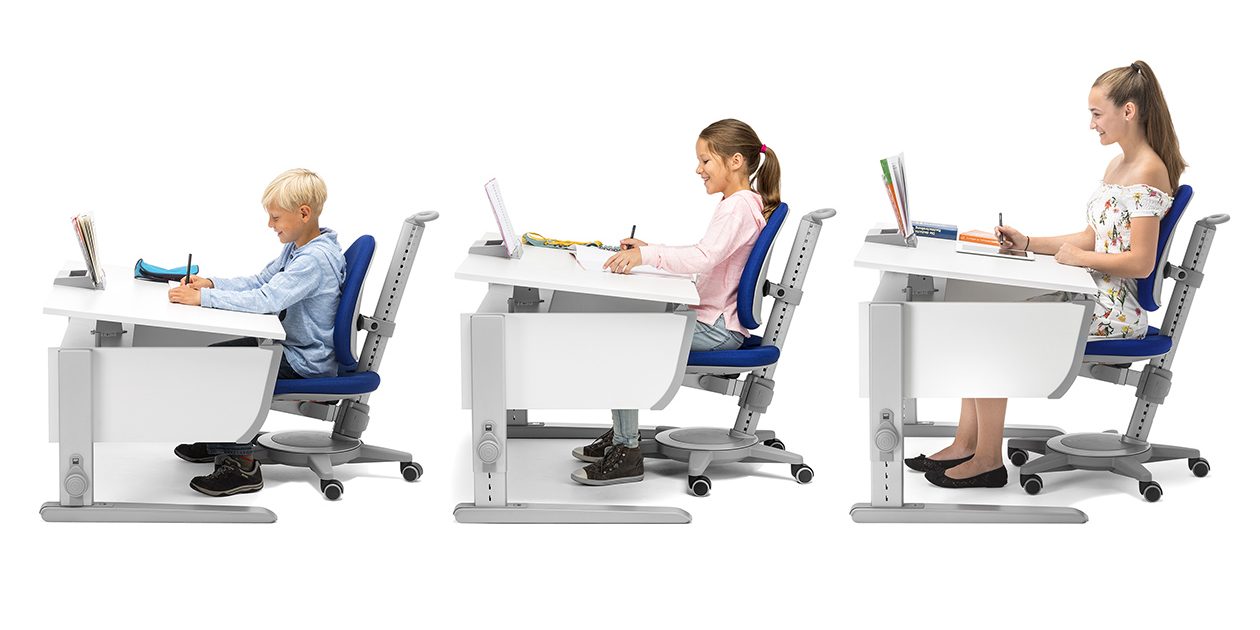 ---

Easy Tilt adjustments
Because there is an optimal angle for every activity, such as writing, drawing or reading, the desktop can be tilted as needed. To prevent backaches, there is no rule for which angle is ideal for which activity. It depends on the individual's personal feeling. Here you can rely on children's somatic intelligence — on their innate, intuitive sense of what to do, what feels good for the body, and what is just the right tilt angle.
---

Color creates change at the kids desk
Transformation comes standard with the Winner and Winner Compact desk models. Interchangeable color applications ensure that Winner appeals to small children just as much as to young adults. The Winner desk system's color applications can quickly be replaced, even later on. Six attractive accent colors make for change and variety. At moll, inspiration is in the details. Moll is made in Germany.
---

Winner Storage – Giant Drawer
Whether it's studying, drawing or crafts, a free work surface is important to concentration and creativity. With the giant drawer, the moll Winner offers optimal storage space for writing utensils and art materials. It offers a great deal of storage space across the whole width of the desk, and many options for sorting art and school supplies.
---
Why Choose MOLL DESK?
Watch how the Moll Children Ergonomic Desk can grow with your children and help them achieving a correct sitting position, better concentration and better performance in your everyday life. [Watch the full video]