The Radiogram Redefined – Ruark R7 High Fidelity Radiogram
With honed aesthetics and enhancements to sound and technology, R7 Mk3 is a wonderful ground-breaking sound system that will satisfy music lovers and design aficionados alike. A modern work of art, R7 Mk3 is the realisation of our dream to remaster the radiograms of yesteryear bringing this iconic ideology completely up to date. Furthermore with the addition of our optional TV mount, R7 can be transformed into a complete audio/visual system making it the centrepiece for all your home entertainment needs.
---

Designed for sound
Our audio heritage has enabled us to understand the synergy of cabinet, amplifier and drive unit design in creating beautiful sound. An example of this is R7's hand crafted enclosure which we have tuned to provide optimal conditions for the drive units and electronics. Furthermore we have designed bespoke stereo speaker units where the high and low frequency components are combined into a single point source driver. These provide an extended natural frequency response, with a lifelike soundstage to immerse you in stunning sound.
---

Beautiful to control
Our RotoDial controller sited on top of R7 provides a slick control system which is intuitive and easy to use. Also for R7 Mk3 we have designed a matching remote control which mirrors in form and function exactly the main controller. Sited on a table or sitting in your hand the R7 remote is an ergonomic delight and with superior radio communication it does not need to be aimed during operation as is usual with conventional infrared remote controls. We also have a dedicated app for iOS and Android devices called UNDOK. This allows full control of R7 and is ideal for managing multi-room set-up and control.
---

A complete AV solution
With the addition of our Audio Visual Mount, R7 is transformed from a music system into a striking audio/visual solution! Designed exclusively for R7, TVs and associated equipment can be integrated with R7 to make an awesome 'all-in-one' system that will be the centrepiece for all your home entertainment needs, providing sound quality that will make television and films all the more captivating and enjoyable.
---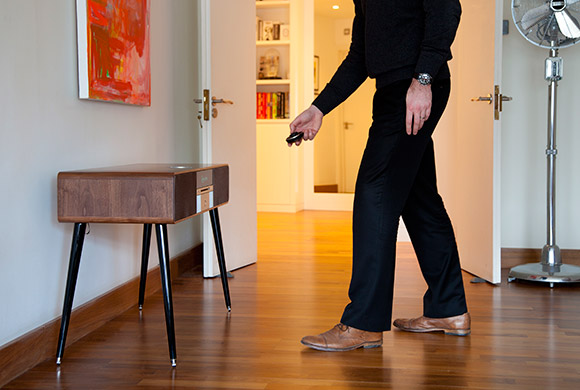 Synchronised Sound
Alone R7 Mk3 is an outstanding music system, but with its 'multi-room' capabilities you can wirelessly link and sync it with our other internet-enabled models such as MRx and R5 to provide synchronised sound wherever you want around your home. Linking and syncing with other units means that you can tailor the sound level around your home, just as you want, so whether you want to relax or party, with R7 you can do all this and more.
---
Feature & Specifications
Sound
2 × Ruark Audio 140mm dual concentric drive units
Integrated active subwoofer with 200mm long throw driver
Linear Class A-B Amplifier, 160 watts nominal output
Adjustable treble and bass settings
Enhanced 3D sound processing
Audio grade components throughout
Loudness function provides enhanced sound at low volume levels
CD Player
Slot loading CD player plays CD-Audio, MP3, AAC and WMA music disks
Text support for CD and USB playback when available
Wireless
Wireless audio streaming from networked storage devices and PCs
Multi-Room Ready
Multi-Room mode allows wireless synchronisation with one or more of our MRx, R2 Mk3 or new R5 models
Tuner
DAB, DAB+ and FM Tuner with RDS for local and national reception
Internet Receiver for world-wide radio reception
30 station pre-sets (10 DAB, 10 FM, 10 Internet)
Bluetooth
Built in aptX HD Bluetooth receiver provides 24-bit high resolution playback from compatible devices
Music Services
Spotify Connect provides seamless integration with Spotify App and access to 20+ million tracks
Display
High contrast OLED display with large format clock
Adjustable brightness to suit requirements
Connectivity
1 × RIAA gain stage input for turntable (RCA connectors)
2 × stereo analogue inputs (RCA connectors)
2 × digital optical TOSLINK inputs
1 × stereo analogue output (RCA connectors)
USB charge (5V 1.0A) and playback port. Codec's supported include WAV, WMA, AAC, FLAC and MP3
Ethernet port for direct connection to network
Front mounted stereo headphone output
Alarm
Easy-to-use programable dual alarm with once, daily, weekday and weekend settings
Adjustable alarm volume
Adjustable snooze and sleep timers
Controls
Intuitive 'click to select' RotoDial control system and matching RotoDial radio remote
UNDOK app provides full control of R7 from iOS and Android devices
Power Consumption
2.0W networked standby power when connected to a network
Automatic standby after 20 mins, see user guide for more details
Standard Finishes
Rich Walnut veneer with Lead Grey grille fabric and satin black spindle legs
Soft Grey lacquer with Lead Grey grille fabric and natural cherry spindle legs
Main Power Requirement
100-120/200-240VAC, 50-60Hz; 250V T6.3A fuse
Dimension
H185 × W1000 × D425mm on puck feet
H650 × W1000 × D425mm on spindle legs
Weight
---
Be Inspired.

---