Sitting on an ergonomic chair can improve your comfort and the health of your back. There is no single 'best ergonomic chair' that fits all body shapes and sizes and that is comfortable for everyone. There are few points that need to be point out to determine how well it has been ergonomically designed for you:
Sit on it, don't just stare at it!
Try sitting on the ergonomic chair instrad of judging on the appearance only
(on the picture: Capisco Puls)
You can only tell whether an ergonomic chair will work for you if you sit in the chair for some time. Of course, if it's really uncomfortable, then you will know this pretty quickly. But, sometimes things that seem comfortable after a few minutes use don't work so well in the long term.
---
A comfortable seat is everything you needed!
The seat shouldn't feel too hard or soft, be uncomfortable under your hips or thighs, and it should not be too long. The important point that ought to be concern :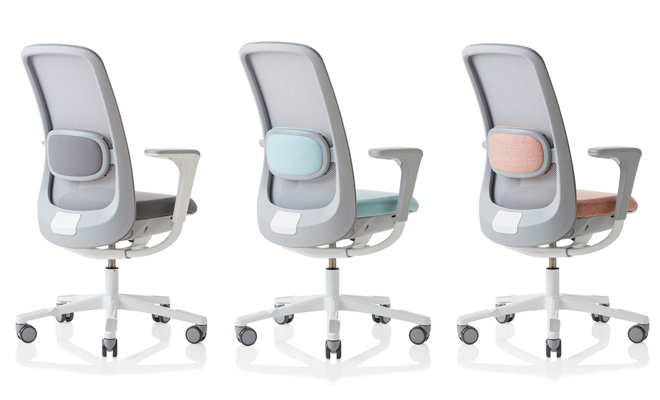 (On the picture: SoFi Mesh)
a seat slide to adjust to your upper leg length
a rounded 'waterfall' front of the seat
a chair seat pan that swivels easily so you don't have to twist your lower back when you reach to the side or turn around.
---
A Comfortable Back Is the Key!
When you sit back, do your lower back and shoulder blades feel well-supported?
the comfortable Capisco by HAG
Look for a chair with a height-adjustable lumbar back support to snugly fit the curve of your lower back. Check that the chair still fits your back whether you sit upright or lean back.
---
A good ergonomic chair has to have an adjustable arm rest & headrest
Not all chairs have armrests. Using armrests helps you to get in and out of a chair and helps to protect your knees and back from undue strain. So look for the armrest feature. Check to make sure the chair armrests are strong enough for your weight and will not tip the chair when you push down on them. Armrests are also useful for occasionally resting.
Look for broad, contoured, cushioned and comfortable armrests that you can easily adjust while sitting.
(on the picture : the model resting their arm and head comfortably on rH Mereo)
The chair headrest helps to reduce strain on the neck and shoulders when you recline back in the chair.
---
Visit HÅLLNING Showrooms:

Pacific Place Mall 
3rd Floor No.18 | Sudirman Central Business District (SCBD)
Jl.Jend. Sudirman Kav. 52-53 Lot 3 & 5, Jakarta Selatan 12190, Indonesia
M: +62 81314234561 T: +62 21 57973256 | F: +62 21 57973258
Pantai Indah Kapuk 
Jl. Pantai Indah Selatan 1 Block DC No. 8

M: +62 8 1314234561 | T: +62 21 5881080
 www.hallning.com