Research has shown that sitting for long periods of time can have adverse effects on an individual's health. Some health problems that can be caused by excessively sedentary lifestyles include increased blood sugar, high blood pressure, increased cholesterol levels and obesity, among others.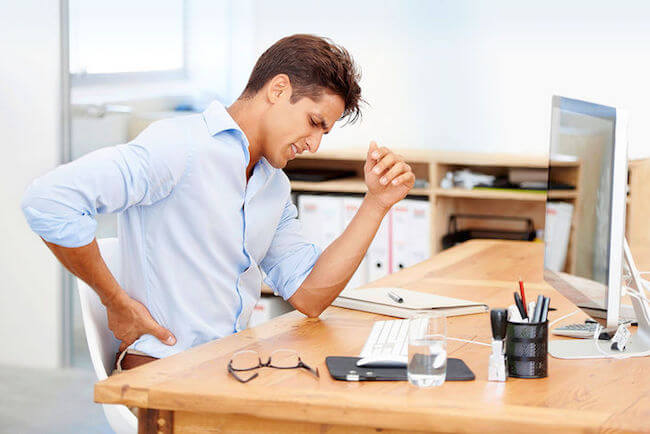 Exercising at the gym or maintaining a good diet will not help counteract the ill effects of too many hours spent sitting.
---
However, it is also important for employees to spend a significant portion of their time at work standing. Furthermore, standing & working can boost employees' energy levels and productivity. In some countries, such as Denmark, the government has made it compulsory for employers to offer height adjustable tables to employees.
Even though standing and working for a few hours each day can have positive effects on health and energy levels, some employees may simply not want to do it. If businesses force employees to use standing desks then this can result in employees feeling bullied and lead to dissatisfaction and loss of motivation.
Thus to be able to encourage employees standing at work can help businesses increase productivity, reduce absenteeism and motivate employees. There are some challenges that businesses will face while incorporating such a change. More information on the challenges and a few solutions are given below.
---
Solutions
A great way for businesses to encourage standing and working is to provide employees with a height adjustable desk. Employees can choose to stand and work if and when they want to.
Though these desks are more expensive, in the long term they will be beneficial for businesses as they help increase productivity and reduce absenteeism.
Our recommended adjustable desk is DubaB8 Adjustable Desk.
Duba-B8 hopes to increase awareness of the advantages of working on height-adjustable tables – from the health benefits to the ways in which it can help boost workers' productivity.
DubaB8 S4000 is a series of work desks, focusing on the combination of function and design
The design of the S4000 series is simple and aesthetic without compromising functionality and quality, and there are many opportunities to create exciting combinations of materials and colors and at the same time obtaining good functionality integrated in the table!
---
Visit HÅLLNING Showrooms:
Pacific Place Mall 
3rd Floor No.18 | Sudirman Central Business District (SCBD)
Jl.Jend. Sudirman Kav. 52-53 Lot 3 & 5, Jakarta Selatan 12190, Indonesia
M: +62 81314234561 T: +62 21 57973256 | F: +62 21 57973258