There have been many ergonomics studies done and it has been shown that a supportive office chair increases productivity and maximizes the efficiency of the person sitting in it.
A bad office chair, on the other hand, can lead to back strain, leg problems, and carpal tunnel, all of which cause lost time at work and send turn send productivity spiraling. So, instead of losing money due to employee absences, it is important to spend money on good office chairs that promote back health and keep employee from missing work due to injuries. The cost of the chair is more than made up by fewer absences.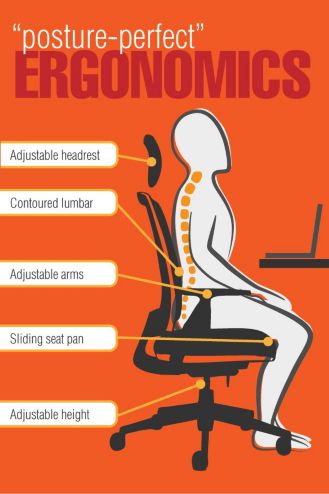 WHAT TO LOOK FOR IN AN ERGONOMIC OFFICE CHAIR?
Office chairs are a part of the décor of any office and so many people try to make sure they look good without worrying about the health influences the chair will have on the person who uses it. The design or ergonomics of the chair should be considered above everything else.
Lumbar Support: A good office chair will have support for the lower back. The better ones will even have an adjustable lumbar support that allows the user to fit the chair to their lower back just like how these ergonomic chairs can be easily adjusted on the lumbar support. This is important in preventing back strain that can worsen and become sciatica, a condition which can be debilitating.
Adjustability: Important features that should be adjustable include lumbar support, arm width and height, seat back width and height, seat and back angle, and tension control.
Wheel Base: Nearly all office chairs have a wheel base; however, if the office is carpeted it may be necessary to get a chair with wheels specifically made for carpet. Rolling is important in preventing strain due to reaching across a desk to retrieve items that are out of reach.
Swivel Base: All office chairs should swivel freely to allow for easy access to various parts of the desk. If the chair doesn't swivel freely, arm fatigue can result from over extending to reach various items.
Fabric: The fabric should be breathable to keep the chair from becoming hot and uncomfortable after hours of sitting in it. In addition, it should have enough cushion to support the person sitting in it without feeling the base of the chair through the cushion.
There are many benefits to having a good office chair in addition to having less back strain. A good, supportive office chair prevents fatigue and discomfort that can come from siting in the same chair for hours on end. Studies have shown that comfortable employees are more productive and contribute to a more positive work environment than uncomfortable employees. Finally, having the correct, comfortable office chair reduces the number of breaks the employee will need to take due to being uncomfortable.
Source:
Jobin P, "The Definitive Guide to Choosing an Office Chair" from: https://gearpatrol.com/2009/07/14/the-definitive-guide-to-choosing-an-office-chair/. Accessed on 9th May 2017