Some children are blessed with the gift of good study habits, while others hate studying. Helping a child with poor study skills benefits the parent, the teacher, and the struggling student. You can take a number of proactive steps to help your children develop better study habits and skills. Remember: discipline is important, but your child will do her best work if she is motivated by the joy of learning.
---
Build Discipline
Make your children realize that how they study is important. Show them some examples. Bring your children to a person who is study-conscious, and have your children ask why he or she studies so much. Tell them about the days of your childhood at school and explain how challenging and fun it was to study.
---
Engage your child by relating less "fun" topics to the subjects that they love.
Most kids will naturally click better with certain subjects. Over time, they may learn to love the subjects that come easy and dislike the topics that take more work. This dislike can lead kids to shut down when things get harder and find excuses as to why they don't need to do it. Catch this early, before your child teaches themselves that they don't need math because, "who really uses algebra anyways?" Help them understand that school is more fun when they follow their interests, but that it can also be important to be well-rounded.
Tips & Trick
One way to stop this is to relate the subject they don't understand to a subject they excel at. Use examples and comparisons. For instance, if your son loves history but hates math, you might try to engage him with the history of numbers; tell him stories about famous mathematicians to add a bit of romance to the subject; or help him understand how mathematical methods like carbon dating help us better understand historical timelines.
Ask your child's teacher, knowledgeable friends, or a private (in-person or online) tutor to help with this. Consider using online resources like games and educational YouTube videos to engage your kids.
---
Find "fun" ways to study
Use flash cards, a personalized study guide, or sticky notes around your child's room; you can even encourage your kid to study with friends over email. Think outside the box. Perhaps the material isn't the reason that your child doesn't like to study—perhaps it's the way that the material is laid out. Try different methods and tweak your child's study system until it works.
If your child wants to study in a particular way, to make it fun, then do just that. If they don't mind, or they simply don't want to study, it is still good to suggest ideas that might catch their attention.
---
Minimize distractions
Keep the TV off, and put away any gaming consoles. If your children are using a computer, keep an eye on them to make sure that they don't play games. Consider blocking certain websites from a computer, or disabling the Internet altogether during certain designated study times.
---
Equip your loved ones with good ergonomic study desk
Moll Adjustable Desk for your loved ones since 1925 from German, specially made from the best quality.
The moll study desk is an all-round talent which is designed to keep children company from the very day they start school through to their school-leaving exams and beyond, and in many families, it will be passed on from one generation to the next.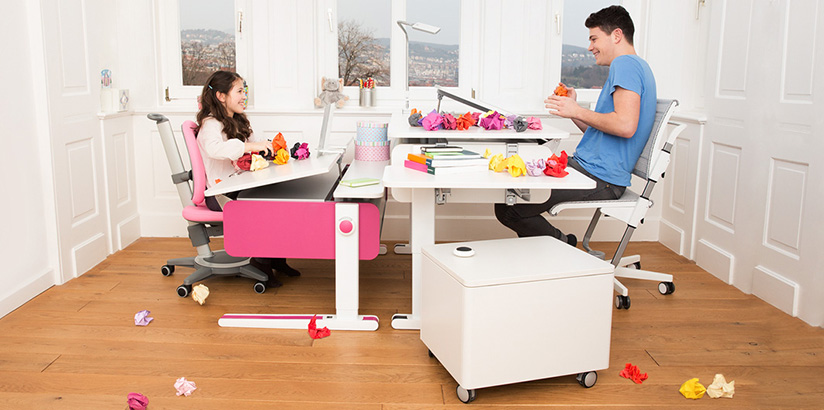 Functionality, robustness or durability- alongside these criteria, the childlike charm of the furniture also has an important role to play. After all, the child's first desk of his or her own should be enjoyed and provide space for development. That's why the desks have secret compartments and boxes all over the place to encourage the urge to play.
To encourage a healthy back, the patented desk legs are so conceived that they can be matched exactly to the child's actual body size. In addition, all desk tops can be tilted. The mechanism is easy to operate and allows the tilt to be adjusted to match the current activity. Because for every activity, whether it is writing, reading or painting, there is one optimum setting to guarantee a relaxed posture.
---
Time to invest a good study desk for your loved ones, contact us anytime – we are ready to assist you!
HALLNING Pacific Place Mall 
3rd Floor No.18 | Sudirman Central Business District (SCBD)
Jl.Jend. Sudirman Kav. 52-53 Lot 3 & 5, Jakarta Selatan 12190, Indonesia

M: +62 81314234561 T: +62 21 57973256 | F: +62 21 57973258