Moll Adjustable Study Desk – Moll is a  premier manufacturer and designer of ergonomic study furniture for children from Germany. It can make itself very large or very small, adapt itself flexibly to the needs of the moment, it offers storage space and ample area on which to write, read or paint. It scores heavily with its functionality, it is ergonomic down to the last detail and almost indestructible.
The moll study desk is an all-round talent which is designed to keep children company from the very day they start school through to their school-leaving exams and beyond, and in many families, it will be passed on from one generation to the next.
To encourage a healthy back, the patented desk legs are so conceived that they can be matched exactly to the child's actual body size. In addition, all desk tops can be tilted. The mechanism is easy to operate and allows the tilt to be adjusted to match the current activity. Because for every activity, whether it is writing, reading or painting, there is one optimum setting to guarantee a relaxed posture.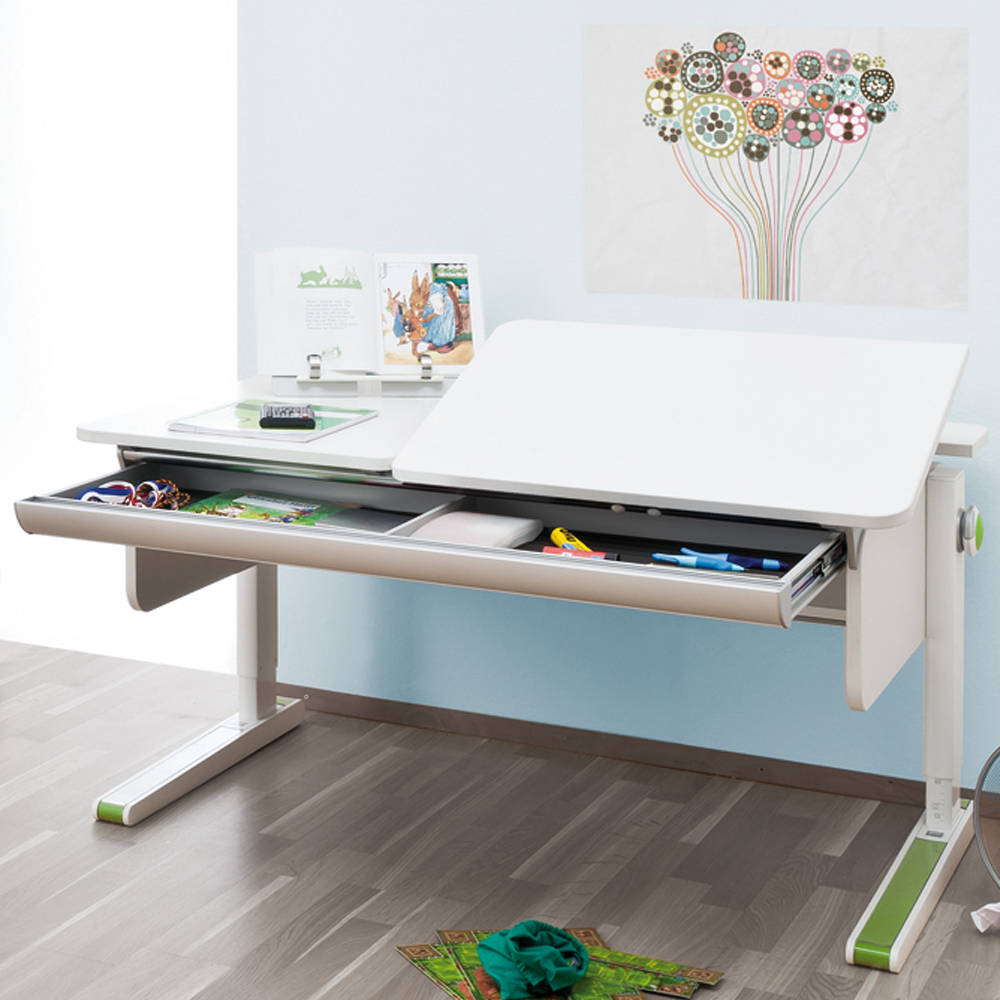 Functionality, robustness or durability- alongside these criteria, the childlike charm of the furniture also has an important role to play. After all, the child's first desk of his or her own should be enjoyed and provide space for development. That's why the desks have secret compartments and boxes all over the place to encourage the urge to play.
Moll Study Desk has been tested to students and included in TOP 5 the best ergonomic study desk for your kids based on Stiftung Warentest, a Germany organization and foundation involved in investigating and comparing goods and services in an unbiased way.
As these study tables are available in various sizes, so pick the one that fits best for your kids. The study desks are made with wood, metal or plastic. These study tables are ergonomic, featuring adjustable height and adjoining table to make it more convenient, functional and easy to use. Some study desk can have drawers attached and racks attached to help in keeping books and magazine.  We carry kids study desk in a wide variety of sizes, designs and styles.
The range of Moll desks are some of the best children's desks in the world. They are designed to be functional and practical, without compromising at all on the comfort or ergonomics. All Moll desks are height adjustable which allows the desk to grow with your child from primary school through to university. They also come with a tiltable desktop to create a perfect angle for reading and writing.
---
Time to invest a good study desk for your loved ones, contact us anytime – we are ready to assist you!
HALLNING Pacific Place Mall 
3rd Floor No.18 | Sudirman Central Business District (SCBD)
Jl.Jend. Sudirman Kav. 52-53 Lot 3 & 5, Jakarta Selatan 12190, Indonesia

M: +62 81314234561 T: +62 21 57973256 | F: +62 21 57973258